Etrony Winter Warm Plush Animal Slippers Indoor Home Slippers for Women, Totoro

Soft and cozy, cute and fun, there is nothing better at the end of the day than slipping your feet into a pair of Studio Ghibli Slippers. Whether you are a fan of My Neighbor Totoro, or you love Soot Sprites… you are certain to find a style just perfect for you.
Studio Ghibli Slippers make perfect sense to me. In many homes (especially in Japan) outside shoes are NOT welcome in the house. People put on inside shoes… house shoes or slippers. Well, of course there would be styles designed for Studio Ghibli fans! During the day, house shoes allow you to still get things done, without getting your feet wet or cold. At the end of the day, the fuzzy slippers let your feet be relaxed and warm in their fur embrace…
Take a good look. I'm sure you will find the perfect pair (or maybe even PAIRS) of Studio Ghibli slippers for your feeties!
Find Studio Ghibli Slippers HERE!
Looking for Totoro Plush Slippers? Look no Further
Whenever I see Totoro I just want to curl up with him. These slippers give me that same feeling. They are plush and warm, perfect for relaxing at the end of a busy day. These are not Mop the Floor slippers! They are Curl up with a Good Movie Slippers…
Totoro: Soft Gray Totoro Plush Slippers

Indoor Soft Plush Totoro Slippers Warm Indoor Footwear Autumn Winter Shoes (Color: Grey)

Yspring Anime Cute My Neighbor Totoro Plush Slippers Comfortable Indoor Warm Shoes for Women(Size 8.5)

YSpring Cute Slippers AnimeTotoro Slippers Uncovered Toes Plush Non-Slip Slippers My Neighbor Totoro Couple Slippers for Women Home Living(Dark Gray)

Soot Sprite Slippers
Looking for other Studio Ghibli characters to make your feet happy? I love love love my Soot Sprite Slippers! My daughter gave them to me for Christmas a few years ago, and the whole family knows… when Mommy has her Soot Sprites on, she's DONE for the day. They are cushy and warm… with a big Soot Sprite Pom Pom that makes me smile every time!
Fuzzy not your thing? There's a smooth version too!
Totoro: Dust Bunny – Makkurokurosuke- Slippers (Pair)

My Neighbor Totoro Ghibli Dust Bunny Adult Anime Cartoon Plush Indoor Bedroom Winter Warm Slipper

Totoro Onesie Slipper
Keep your feet warm while you cozy on the sofa in this single Totoro Slipper. It's SUPER Cushy and soft…just don't expect to walk around in it.
1pc My Neighbor Totoro Warm Feet Slippers Large Feet Slippers

Studio Ghibli Slippers and House shoes
These non-slip Studio Ghibli Slippers and Houseshoes are the perfect thing to wear in the house. Take your outside shoes OFF and leave them at the door, and slip these on. They are so inexpensive (and cute) you might want to get a few extra pairs for guests… so they don't have to walk barefoot or in their socks.
Yspring My Neighbor Totoro Cute Shoes Cartoon Couple Comfortable Indoor Plush Warm Slippers

Studio Ghibli My Neighbor Totoro Interior Slippers Morning Glory (20.0cm) 1812600

Senko Slipper House Shoes Kiki's Delivery Service

Senko Studio Ghibli My Neighbor Totoro Soft Slippers Women One Size 24cm from Japan 66798 Yellow

Senko Slipper House Shoes My Neighbor Totoro Sunbeams leaves Size:24 (US 6.5) Green from JAPAN

Senko Totoro Meeting Slippers

Studio Ghibli My Neighbor Totoro Interior Slippers Leaf (20.0cm)

Studio Ghibli My Neighbor Totoro Interior Slippers Butterfly (20.0cm)

Studio Ghibli Slippers for Baby
These Studio Ghibli slippers and booties for babies are just the cutest thing EVER! Warm and soft… perfect for baby's little feet. (My pet peeve is naked baby feet outside!)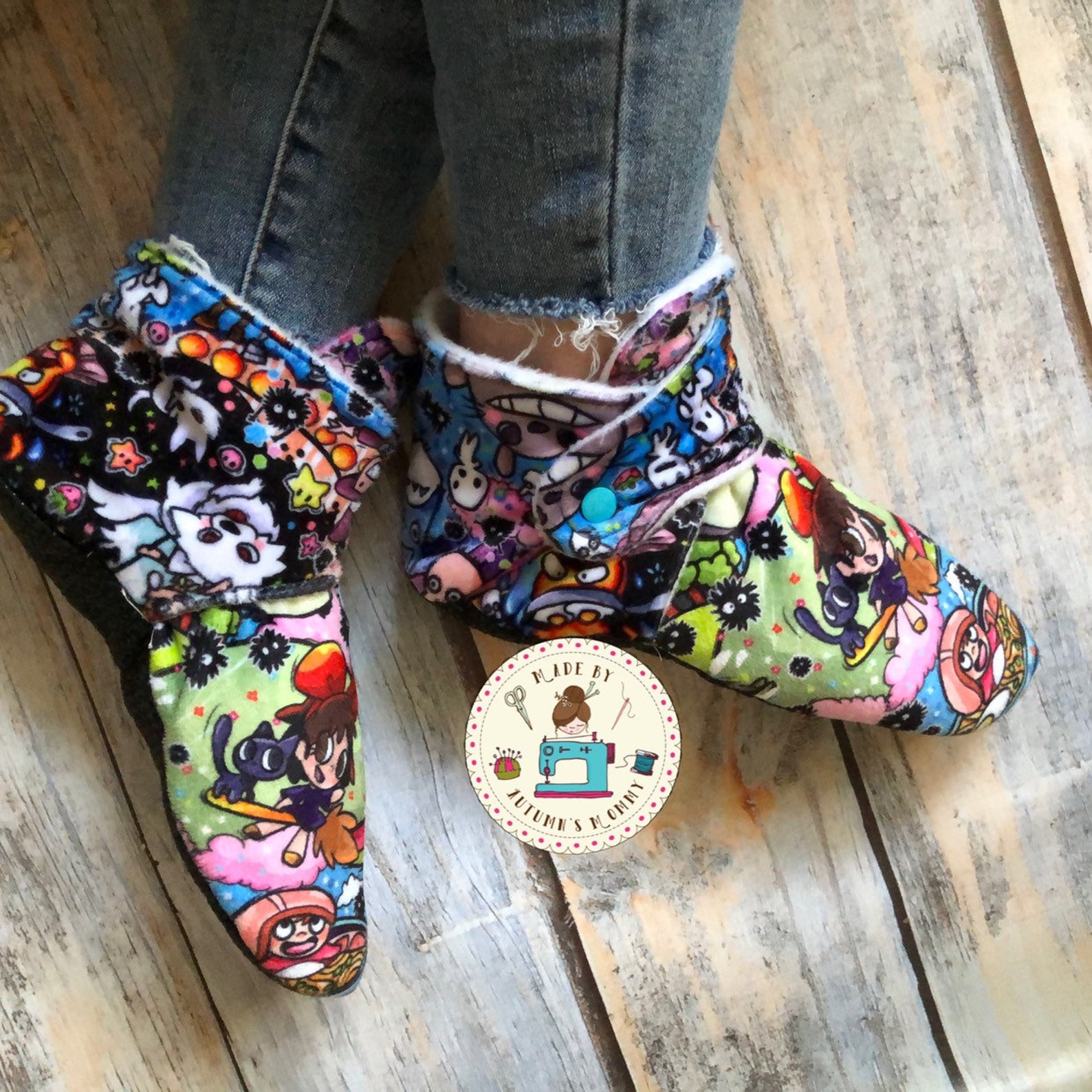 Ghibli Slipper booties Baby / toddler / child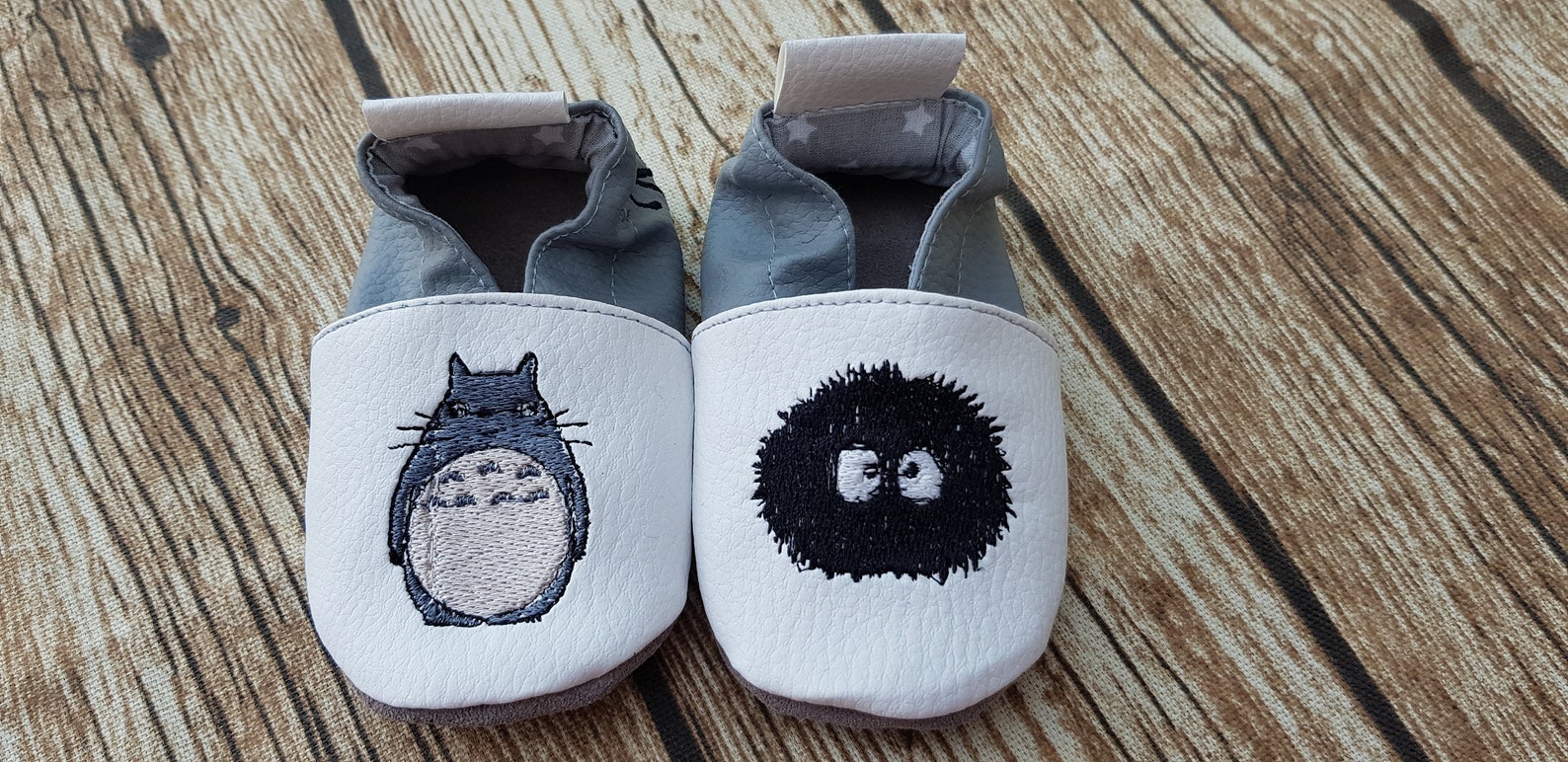 Slippers soft leather, leatherette, shoe baby