Food plays such an important role in Studio Ghibli films!  From Ponyo's Ham to Umi cooking beautiful meals for the boarders… food is everywhere! Why not try a little Studio Ghibli Cooking yourself? I've added some video of delightful foods, and included some ingredients you might need. Who knows? Maybe you will be inspired to create lovely Bento lunches like Satsuki??
Here is some inspiration to bring a bit of Studio Ghibli Food to your kitchen…
I'm Hungry Now!!!
Studio Ghibli Cooking
Let's start with a few Bento Lunches….
Studio Ghibli Bento Lunches
There are loads of great Studio Ghibli Bento Lunch ideas… I've included some video recipes, and adding in some ingredients/tools you might need to make them happen!
Satsuki's Bento Lunch
Satsuki makes Mei a lovely Bento Lunch in  My Neighbor Totoro.  The box is mostly filled with rice (yum!). She tops the rice by placing a small grilled fish (probably a shishamo or smelt). You could find them in an Asian Market… or make due with what you CAN find (maybe a sardine?) The pink stuff seems to be Sakura Denbu… a sweet fish powder that is dyed pink. You might use Salmon Flakes (although they are quite salty). Add some peas and an Umeboshi Plum, and you have lunch!
Tools and Ingredients to make Studio Ghibli Bento Lunches
Many Bento Lunches can be made with common ingredients… but there are some special Japanese ingredients you might want to have on hand.  A Rice Maker just makes rice making EASY (I can't tell you how often I've lost focus and burned it when I just use a pot). Fish powder, Umeboshi plums, Sesame Seeds… don't forget Mirin and pickled Ginger!
Kikkoman Manjo Aji Mirin, 17 fl oz

Japanese Bonito Flakes 2.82 Ounces

Kizami Shoga (Pickled Ginger) – 12oz by Shirakiku.

365 Everyday Value, Panko Bread Crumbs, 8 Ounce

Kamoi Sakura Denbu, ground seasoned(sweet) codfish 1.0 Oz, pack of 1

Roasted White Sesame Seeds (Iri Goma) 8 Oz by Shirakiku (8 ounce)

Marumoto Jun Neri sesame black 450g

House – Shichimi Togarashi – Japanese Mixed Chili Pepper 0.63 Oz

Eden Foods Umeboshi Plums, Whole, 7.05 oz

Make a Bento lunch with Totoro!
You need Laver (Iwanori) for coloring/flavoring the rice… and toasted Laver for Soot Sprites
Natural Iwanori (with packaging), which was cooked in Shodoshima [rice shop is chosen companion of rice] 150g chemical seasoning 1 point free companion 5-point purchase of non-use rice
Japanese Tea Shop Yamaneen Toasted Laver Sushihane 10 Sheets
&
More Bento Box ideas…
The Just Bento Cookbook: Everyday Lunches To Go
Yum-Yum Bento Box: Fresh Recipes for Adorable Lunches
Effortless Bento: 300 Japanese Box Lunch Recipes
&
Do you have your Bento Box??–>Totoro Bento Boxes
Making Ponyo Noodles!
Noodles and Ramen are in a lot of Studio Ghibli films, but most notably in Ponyo. Is there a more delightful scene in any film than when the lid is lifted from the Ramen Bowl, and Ponyo finds HAM!
Maruchan Ramen Oriental flavor, 3 oz, 24 ct
Japanese 6.25
&
Ongiri from Spirited Away
Rice balls filled with Pickled Veggies is what keeps Chihiro rooted in the Spirit world…. you can make them yourself for a snack!
Tsukemono: Pickled Japanese Vegetables
GOLD MINE TAKUAN DAIKON RADISH PICKLES 7 OZ
&
Howl's Moving Castle Breakfast
Simple fried eggs, bacon and a slab of bread… you can even make your eggs in a Calcifer Pan for authenticity!

Ghibli Howl's Moving Castle Calcifer Kitchen Tool Pancake pan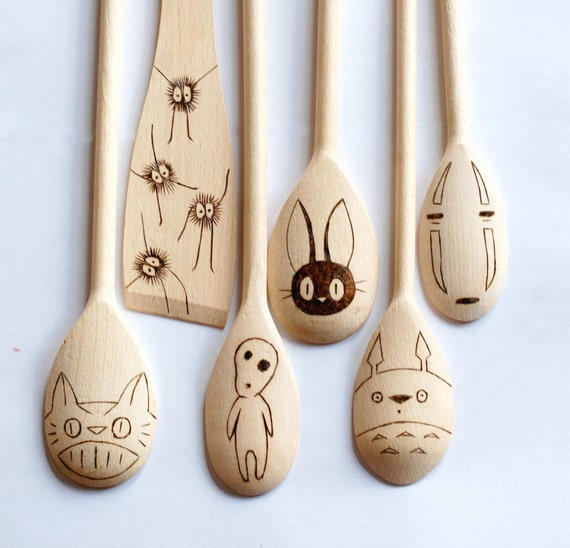 Studio Ghibli – Wooden Spoons Set of 6 Utensils

&
Deep Fried Fish from Up on Poppy Hill
In the morning, it's simple eggs, rice and ham… but in the evening Umi makes Deep Fried Fish.
Find the Recipe for Fried Horse Mackerel here–>https://www.nhk.or.jp/dwc/recipes/detail/17.html
KEN HOM Nonstick Carbon Steel Wok Set with Utensils and Glass Lid – Flat Bottom Asian Stir Fry Pan with Helper Handle – 12.5
Kikkoman PANKO BREAD CRUMBS Japanese Style 8oz (4 pack)
Marukan Seasoned Gourmet Rice Vinegar 12 Ounce
&
Kiki's Pancakes with JIJI!
You need a griddle, some pancake mix… and squeeze bottles to make the image!

BLACK+DECKER GD2011B Family Size Griddle, Black
Easy Squeeze Plastic Condiment Bottles 8-ounce with Red Tip Cap – Set of 6
Krusteaz Light & Fluffy Buttermilk Complete Pancake Mix Family Size ~ 5 Lb Bag
Have Fun with Japanese Food
Love cooking Japanese foods? Why not show off your talents with these fun phone accessories?

Japanese Food Sample Collection Cell Phone Strap (Miso Soup) – $5.50
from: Strapya Inc.

Japanese Food Sample Collection Cell Phone Strap (Futomaki) – $5.50
from: Strapya Inc.

iMeshi Japanese Food Gyoza Case for iPhone 6s Plus / 6 Plus
from: Strapya Inc.

Japanese Soul! Japanese Sweets Miniature Food Sample Charm (Mitsu-Dango) – $1.75
from: Strapya Inc.