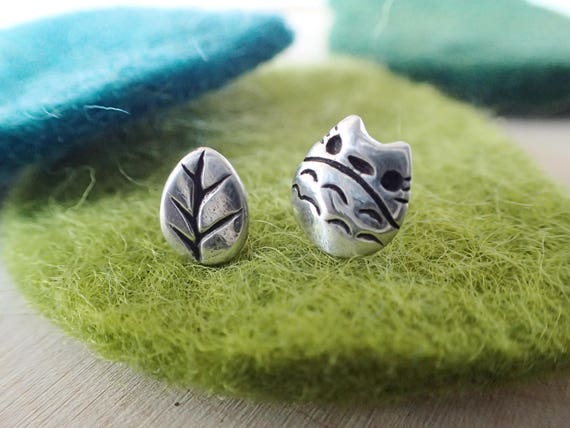 Totoro Earrings (Studio Ghibli Inspired)

Stocking Stuffers are defined as small gifts that could fit in a stocking. I also see them as a nice little way to give a special Studio Ghibli gift, without breaking the bank. Something thoughtful without being wildly expensive. I've done some searching, and found cute Stocking Stuffers Studio Ghibli fans will love!! These small gifts will bring a smile to the recipient's face … and might even be something you want to pick up for yourself??
And… to make it easier on the wallet… each of these items costs less than $30!
Stocking Stuffers from Your Favorite Studio Ghibli Films
Cute stuff from Studio Ghibli Movies!
My Neighbor Totoro Tea
You get 6 Totoro shaped tea bags… and there are 3 different kinds of tea to choose from. Super cute!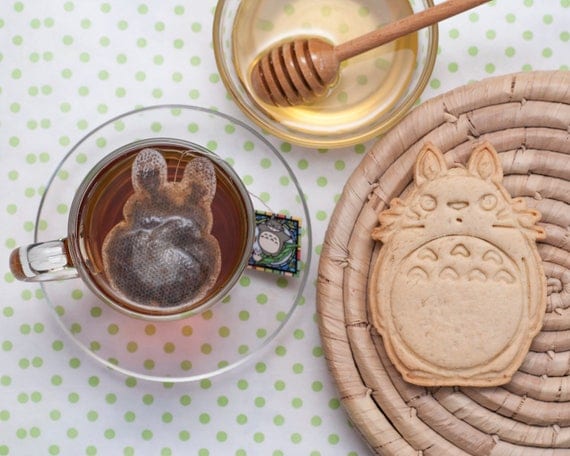 6 pc. Tea bags Totoro. Tea as a gift.

Kiki's Delivery Service Jiji's Cup
This cute cup it inspired by Kiki's Delivery service and features our own original Jiji design. Nice and big at a 15 oz size, each features direct dye-sublimation rendering them fade-proof and dishwasher safe. Each cup features both images on the left and right sides.
&
Laputa Robot Sticker
The Laputa Gardener from Castle in the Sky looks extra sweet on this sticker!
Porco Rosso Collectible Art Print
This Porco Rosso Image is printed on upcycled book pages… and comes in multiple sizes.
Whisper of the Heart Washi Tape
A schoolgirl named Shizuku, who longs to discover her true talents follows a cat who leads her to the mysterious Seiji, a boy who is determined to follow his dreams, and The Baron, a magical cat figurine who helps her listen to the whispers in her heart. This Whisper of the Heart Washi tape is perfect for crafting!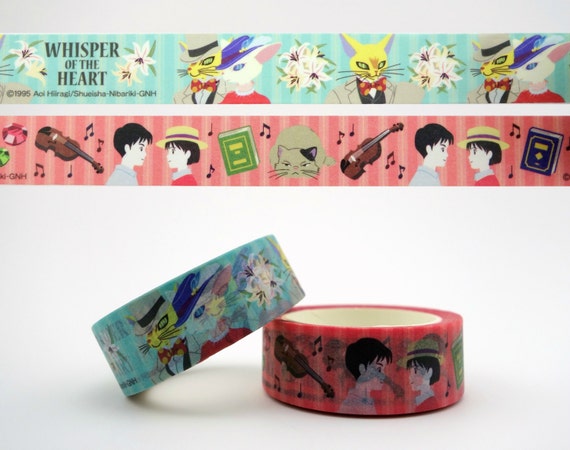 2 Whisper Of The Heart Japanese washi tape rolls

Princess Mononoke Kodoma Spirit Notebook
For the dreamers who love to write… each Notebook has a hand painted Kodama spirit… and a few soot sprites on hemp fabric notebook cover.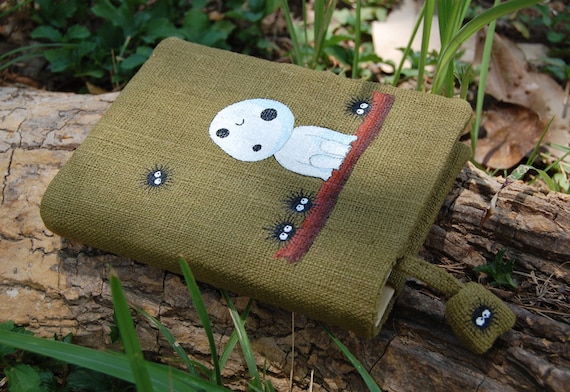 Notebook with Princess Mononoke "Kodama" Hand Painted on green cotton Cover

Spirited Away No Face Knitting Figurine
Sweet and adorable! No Face can be purchased with or without the basket of knitting.
The Cat Returns Muta Hat
My favorite Studio Ghibli cat… Muta! I wish I could sleep that much!
Howl's Moving Castle – Sophie's Ring
A beautiful ring… to remember Howl.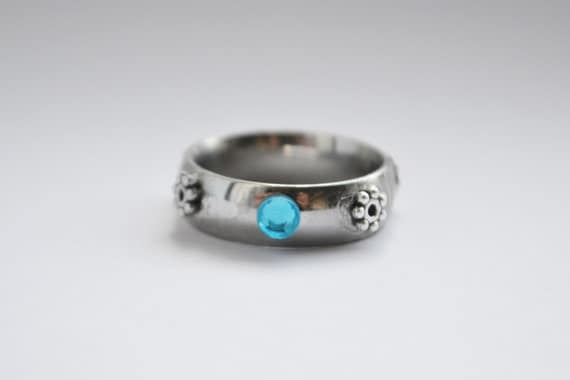 Sophie Hatter – Howls Moving Castle – Studio Ghibli – Cosplay Ring

Ponyo Pouch-ette
This cute little Ponyo wallet holds all the cash and cards you need to navigate life as an adult, but is still super cute to show off the child in you.
&
Secret World of Arrietty Freindship Bracelet
This cute friendship bracelet is the perfect gift for your BFF! The leather, beads and Glass image bead make it super stylish.. and the sentiment is fabulous.
&
From Up on Poppy Hill Umi Pendant
This handmade glass pendant features a sweet portrait of Umi, and comes with a silver necklace.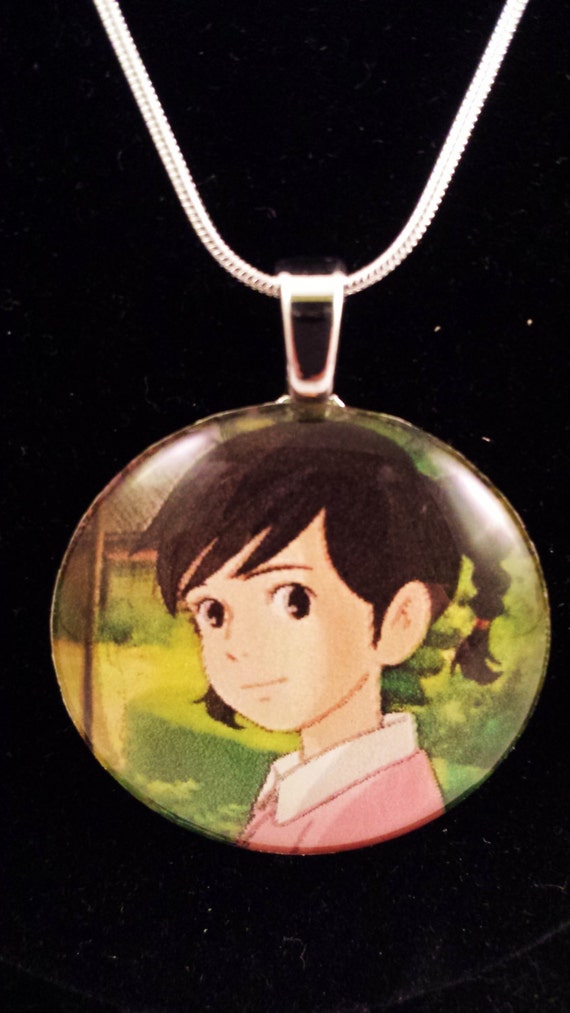 Handmade glass pendant necklace with picture of Umi from "From Up On Poppy Hill"

The Wind Rises Hatpin
The perfect thing to keep your hat on in the wind…. or, use this recreation of Jiro's plane as a lapel pin or brooch.
&
The Tale of Princess Kaguya Stickers
These ADORABLE stickers are TINY! Most will fit on a fingernail! Split them up and stick them anywhere!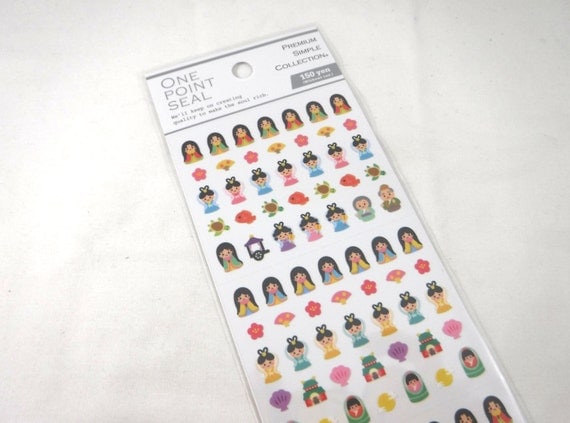 Princess Kaguya Kawaii Japan Sticker Sheet Assort

&
Grave of the Fireflies Candies
The saddest movie ever to come out of Studio Ghibli… yet such a beautiful film with an important message. The candy sweetens the pain, just a bit.
Japanese Candy Sakuma Drops Reprint 6oz Model Grave of the Fireflies

When Marnie Was There Phone Strap
Love this Marnie phone dangle… You could hang it from your bag or phone.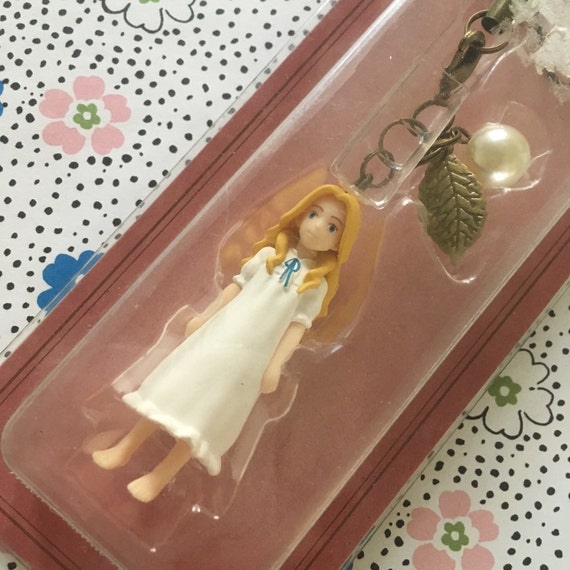 Kawaii When Marnie Was There mobile phone strap from studio Ghibli in Japan

&
Kizuna Snack box- Click to Order a Monthly Subscription
Still Looking for Stocking Stuffer Ideas?