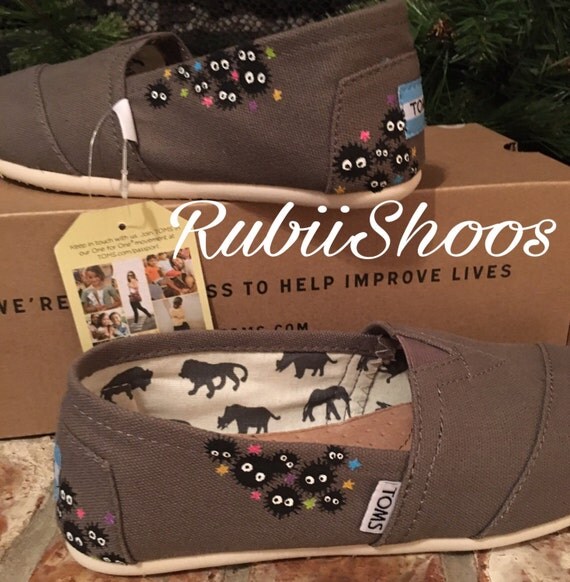 Ash Toms- Dust Bunnies- Soot Sprite

Is there someone on your list who loves Studio Ghibli Soot Sprites? Then take a look at this list of cute Gifts for Soot Sprite fans! Who would have thought that dust balls would have such a big fan base? Yet these adorable little guys have captured the hearts of millions. You find them on everything from Soot Sprite Shirts to Soot Sprite CANDY.
But what ARE Studio Ghibli Soot Sprites?
Studio Ghibli Soot Sprites are pitch black fuzzy balls of soot, with big eyes and long arms and legs… But that doesn't quite describe their appeal. Their Japanese name is Susuwatari or Makuro Kurosuke. The early subtitles of the Studio Ghibli films called them "black soots" or "dust bunnies"… it wasn't until Disney did the English sub-titles that they became known as Soot Sprites.
These wonderful little creatures first make their appearance in the film "My Neighbor Totoro". When Satsuki, Mei and their father move into a home, they find it is LOADED with Susuwatari… but because they are a 'good family', the little sprites move off to find another home.
Later we meet the Soot Sprites again in "Spirited Away", where they work for Kamaji in the boiler room. He tells Chihiro that they will turn back in to soot if they don't have a job to do… so he keeps them busy moving coal all day. One of my favorite scenes is when Lin feeds them kompeitō , a Japanese Candy.
Studio Ghibli Soot Sprites
They have no dialog, they really don't move the plot along, but there is something just magical about these little creatures. So, if you want to make someone very happy, you can't go wrong with one of these cute gifts for Soot Sprite Fans.
Soot Sprite Shirt
I have a few Soot Sprite Shirts… my favorite is a long sleeved T-shirt. Every time I wear it I get comments… "hey! Soot Sprites". The long sleeved shirt seems to be gone, but you can still short sleeves, different colors and different patterns. There is the perfect Soot Sprite shirt for every Studio Ghibli fan!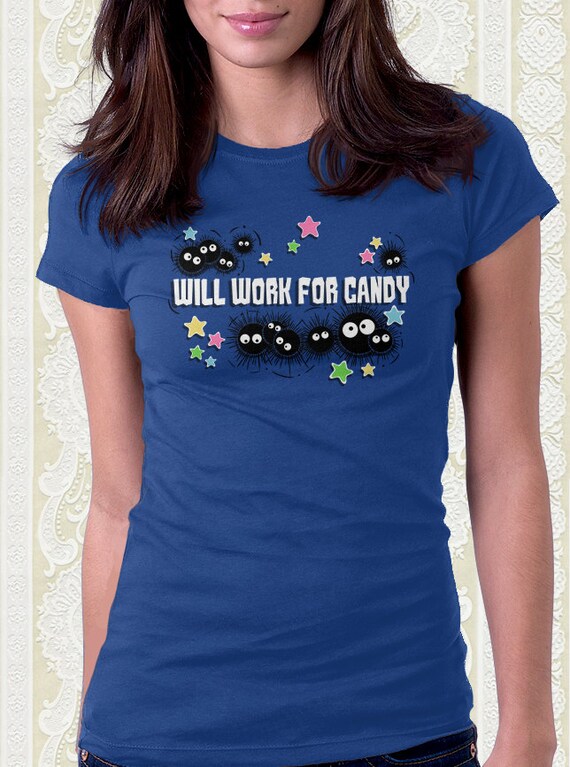 Will Work For Candy

Hillet Men's I Love Ghibli Soot Sprites Cotton Graphic T-Shirt Gray Size L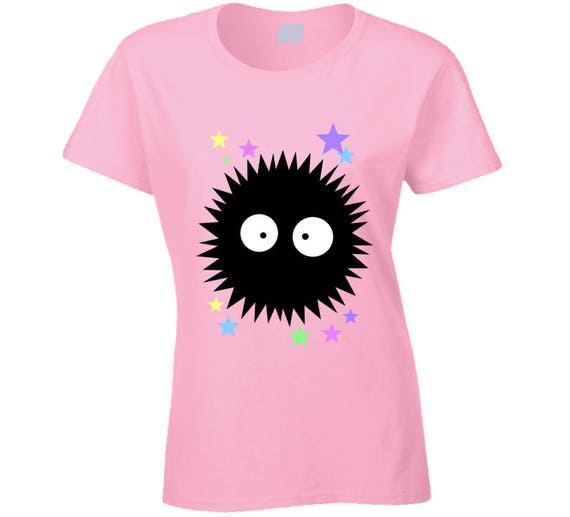 Ladies Pompom T Shirt

Soot Sprite Art!
These fun prints will fit in to almost any decor! Added bonus, you could have one of these prints immediately as a download. What are you waiting for?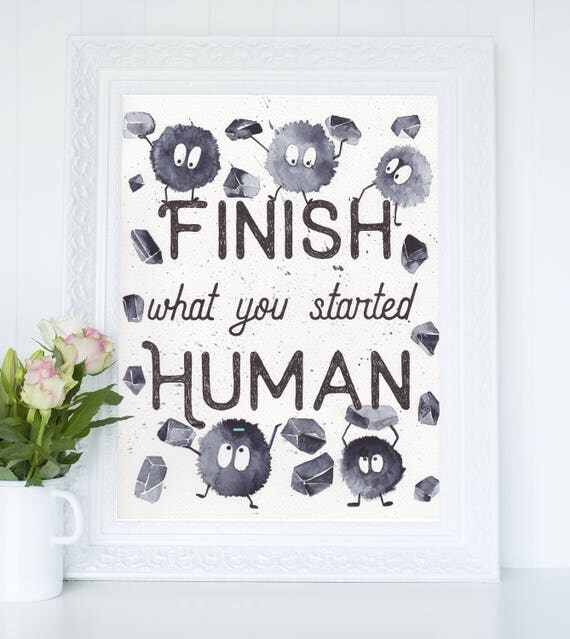 Dust Mite "Finish What You Started Human" Fan Wall Art Print *FREE SHIPPING*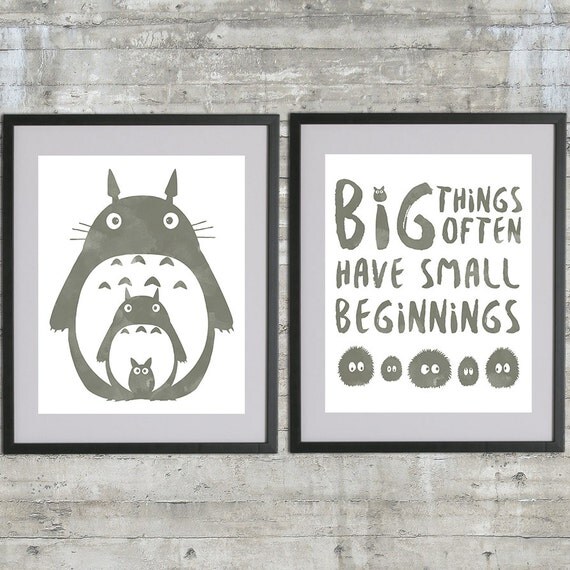 Totoro Art Printable

Other Soot Sprite Clothing!
That perfect Kimono… an adorable skirt… a cute dress….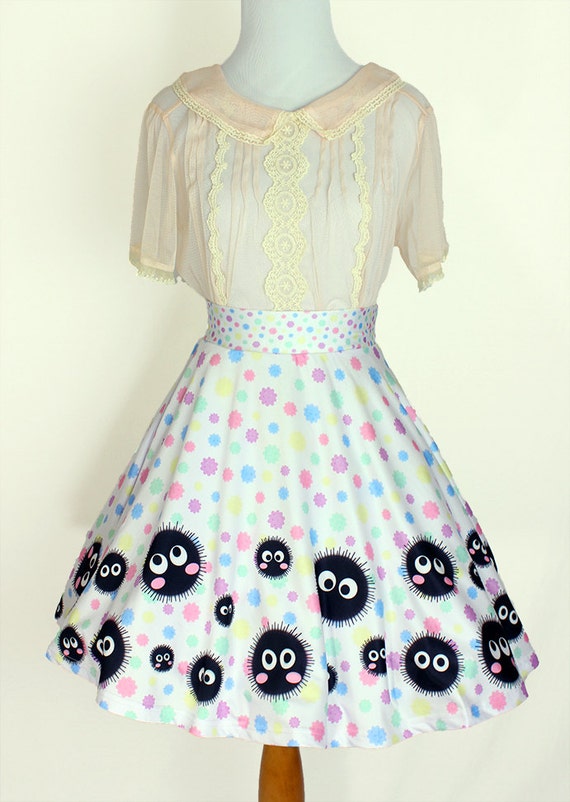 SPIRITED AWAY Soot Sprites Konpeito Skirt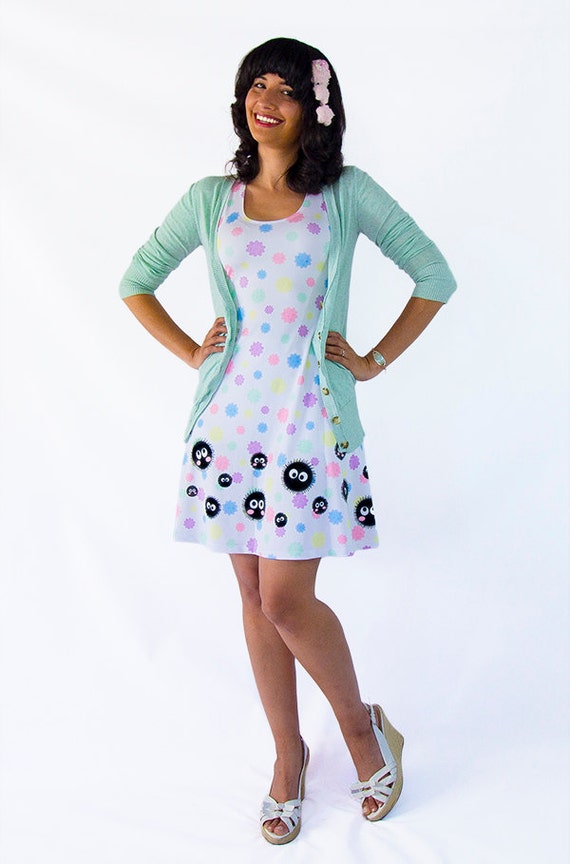 SPIRITED AWAY Soot Sprites Pastel Konpeito Candy Dress

Her Universe Studio Ghibli My Neighbor Totoro Soot Sprite Kimono

Soot Sprite Mugs
Who doesn't want to start their day drinking coffee or tea from a sweet Studio Ghibli Soot Sprite mug! You can't help but smile when you see them.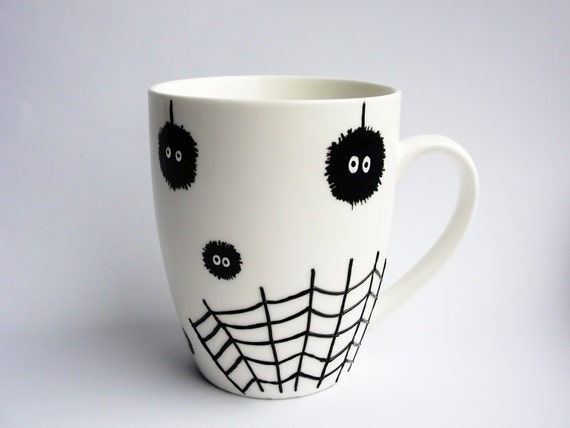 Soot Sprites Mug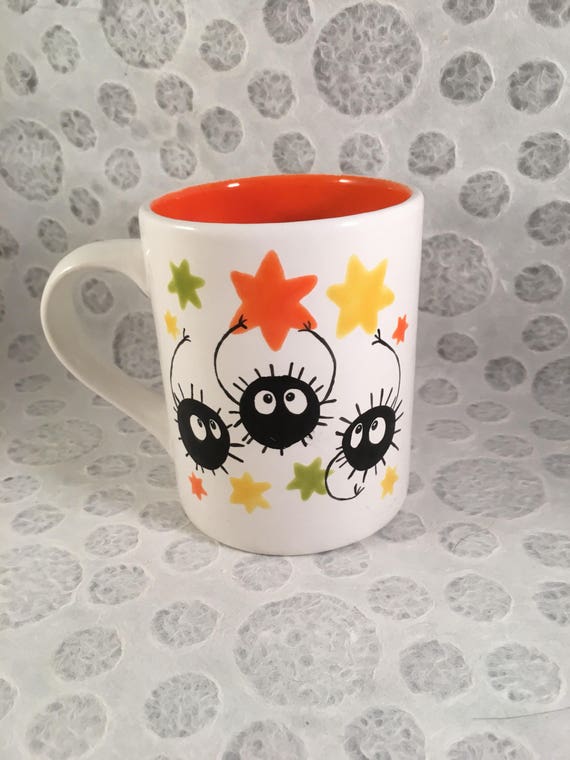 Soot sprite mug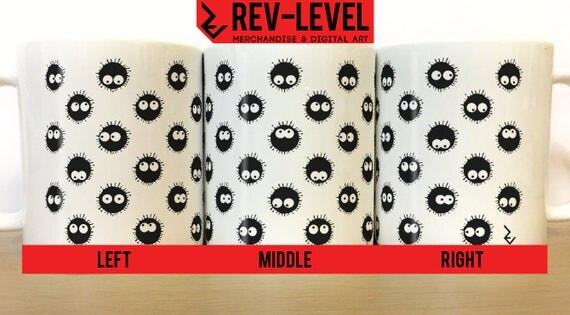 Totoro Susuwatari Soot Sprites Mug

Soot Sprite Decal
Soot Sprite decals can be stuck just about everywhere! On the computer, on your car window, on the refrigerator, on your walls, doors or phone. The possibilities are endless…. anywhere you might encounter a Soot Sprite, you could stick a Soot Sprite Decal!
SPOT-IT Crafts SOOT SPRITES SPIRITED AWAY DUST BUNNIES 2 IN 1 COVER + TRACKPAD / PALM REST / KEYPAD VINYL DECAL STICKER FOR MACBOOK / LAPTOP / NOTEBOOK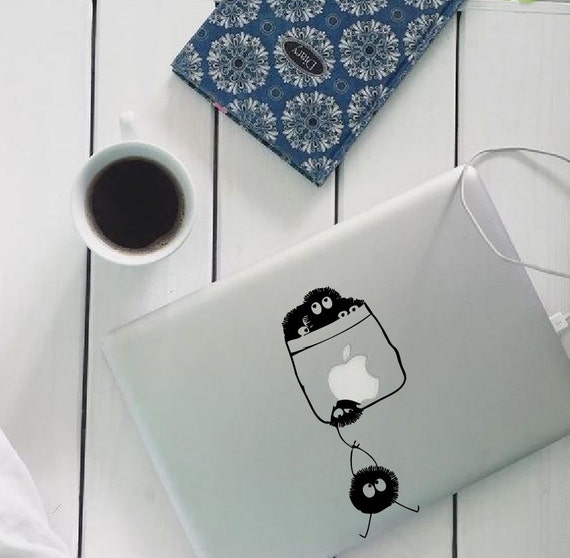 Spirited away Soot sprites decal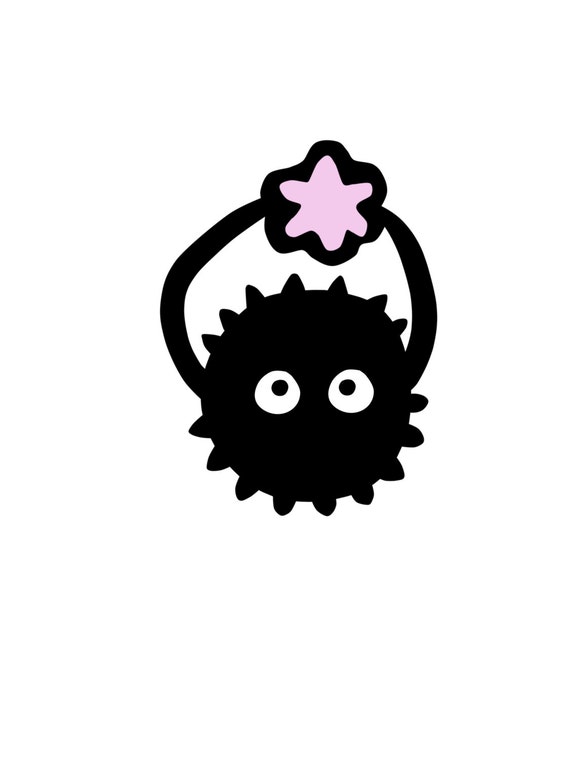 Decal – Soot Sprite

Soot Sprite Candy
Konpeito Sugar Candy 2.46 ounce 70 gram ~100 pieces

In the movie "Spirited Away", Lin feeds the worker Soot Sprites kompeitō … a Japanese Sugar Candy. She actually feeds them just like you would feed chickens!
Seeing the Sprites scramble around to get their colorful piece of sugar candy is such a wonderful little scene.
Now you can try kompeitō. This sugar candy tastes just like sugar… no added flavors, just color. You could add it to a cup of tea to sweeten it…
Or you could lay some on the ground for your friends the Soot Sprites.
Soot Sprite Bags
Looking for a great bag to carry your stuff? Take a look at these easy and fun Studio Ghibli Soot Sprite bags. The sling bag comes in a few different colors… red,pink, green, blue, and more!… and is decorated with our little friends, the Soot Sprites! Pouch is about 16 inches wide and 14 inches tall. The shoulder strap is 45 inches long.
The Big Purse is on super clearance… so grab it now!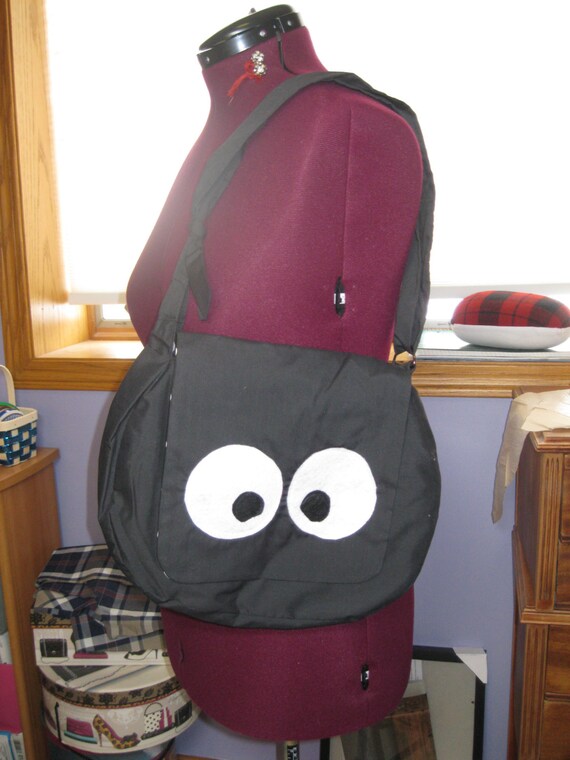 CLEARANCE SALE Soot Sprite (Studio Ghibli Inspired) Purse

Soot Sprites Hip Shoulder Sling Bag Thai Cotton 32 Blue From Spirited Away Totoro Movie

&
Soot Sprite Earrings and Soot Sprite Necklace
Jewelry is always a nice gift to give and receive, and Soot Sprite Jewelry is even MORE fun to get! Cute stud earrings and an adorable Soot Sprite cabochon necklace would make a nice set…Plus, I love the candies floating around the sprite in the cabochon. Just a little pop of color.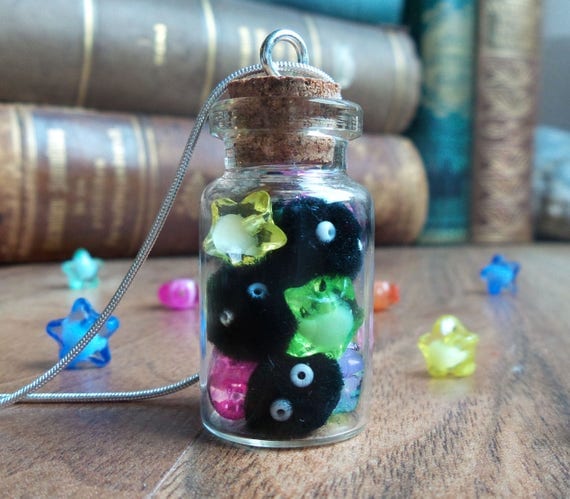 Soot sprites bottle necklace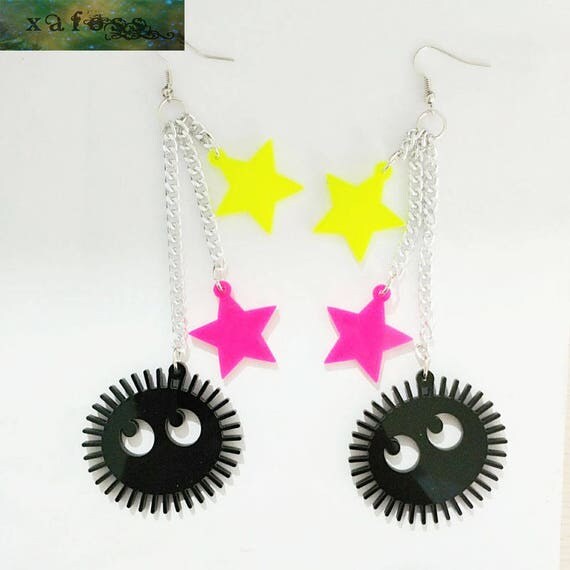 Soot Sprite Earrings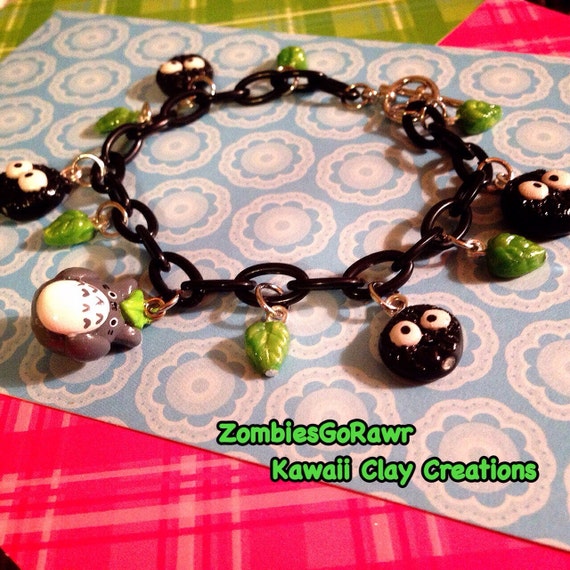 Kawaii Cute Totoror Soot Sprite Themed Charm Bracelet

Soot Sprite Slippers
Totoro: Dust Bunny – Makkurokurosuke- Slippers (Pair)

I HATE cold feet… and now that winter is arriving, just plain socks aren't enough to keep my toes toasty. Luckily, my daughter gave me these delightful Soot Sprite Slippers.
They are soft and squishy, perfect for walking around the house, or lounging on the sofa. The Big POOFY Soot Sprite on the toes is so cute! And they keep my feet warm.
For the price, it's a great gift! (Low cost, big impact)
(And if you gather a little dust on the bottom of them while walking around, you can easily bang it off).
Soot Sprite Plush
Ok, ordinarily, you wouldn't really think about cuddling up to soot… but exceptions will be made for these cute Soot Sprite Plush toys. You just have to make the very difficult decision… which one do you want???
With or without legs? With a suction to hang it?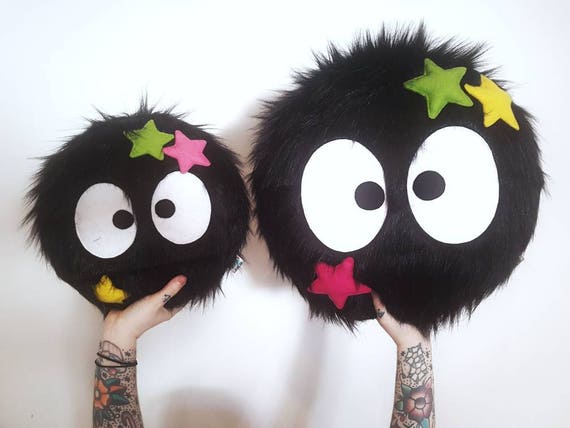 Studio Ghibli – SUPER SIZED Soot Sprite – Plush Pillow Toy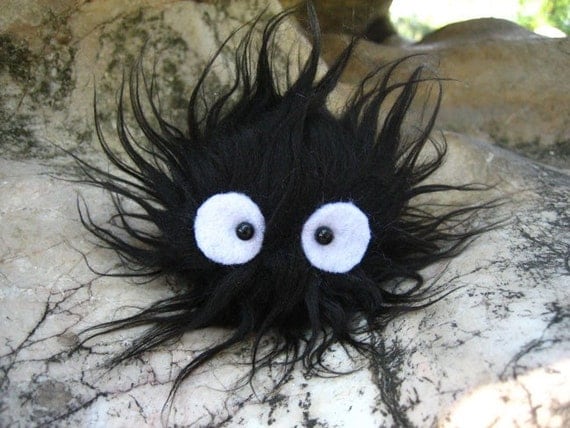 Spirited Away Totoro plush doll keychain

Gund Spirited Away Stuffed Soot Sprite Window Cling Plush

Soot Sprite Coin Purse
Looks like Soot Sprites can help you keep track of your change and other small items that would normally rattle around in your purse. I love the fuzzy Soot Sprite shaped coin purse, but I can see how the leaf shaped bag would be much more practical, and much less likely to pick up wads of unknown sticky stuff from my purse…
Green Leaf Shaped Bag From with Hand Painted Soot Sprite From My Neighbor Totoro and Spirited Away Anime

Soot Sprite Kurosuke Plush Coin Bag Purse From Spirited Away and Totoro Anime

Did you find it? The perfect gift for the Soot Sprite Fan on your List?